Urban Dunes, designed by Barberio Colella Architetti in collaboration with architect Angelo Figliola, is a future solution concept to minimize the heat island effect for a severe environment like Abu Dhabi, where harsh circumstances prevail for many months of the year, making conventional outdoor activities impractical. The developed design proposal lies on a deep understanding of the climatic context of traditional Abu Dhabi and Emirates architecture, such as elegant vaulted spaces, vernacular shading devices, and cold-water basins.
---
Learn parametric design and computational tools from the pioneers of the industry at the PAACADEMY:
---
The project's core architectural concept is to push up a thick layer of sand and create an urban "oasis" that blends passive and low-tech active technologies to improve outdoor thermal comfort as measured by the UTCI index. The vault is built out of multiple stereotomic blocks of 3D printed sandstone, using local sand as the primary ingredient. The sand is solidified using the binder jetting technique, which can produce large blocks with excellent accuracy.
Because of the large thermal mass of the shell, the adoption of a 3D printed vault with a thickness of 55 cm allows for minimizing overheating of the urban area, functioning as a primary passive technique.
The sand is blended with heat-reflecting cool pigments to increase surface reflectivity and limit surface heat build-up, resulting in lower energy consumption. The area under the vault depicts an urban microclimatic space shielded from the sun by a vernacular sunshade device, the mashrabiyya, which improves the room's natural ventilation.
When interacting with the perforated surface of the mashrabiyya, the wind increases its speed due to the Venturi effect. This entering wind collides with cold water basins, creating a sensation of freshness inside the public area. Furthermore, the room under the shell is naturally ventilated via the employment of a low-tech system in which earth pipes and four micro wind catchers are inserted following the CFD analysis.
As another merit, the presence of palm trees and two waterfall fountains work in conjunction with the natural ventilation of the area to provide a refreshing experience, which is psychologically reinforced by the sight of the flowing water.
The project also includes two active cooling systems to optimize cooling efforts. A high-pressure misting system is used to drastically lower the temperature of the surrounding air by pushing water through a high-pressure pump, generating a micro-fine mist. On the other hand, the shell is cooled via tubes through which a cooling fluid circulates. The liquid may be passively cooled by using the earth's constant temperature.
By combining such technologies, it is possible to achieve a UTCI of 26 °C for August (the warmest month in Abu Dhabi), representing a good thermal perception for an outdoor setting.
Project Details:
Project name: Urban Dunes
Architecture firm: Barberio Colella Architetti
Principal architect: Maurizio Barberio, Micaela Colella
Project Location: Abu Dhabi
Built area: 1000 sqm
Visualization: Barberio Colella Architetti
Tools used: 3D printing (binder jetting)
Design year: 2020
Design team: Maurizio Barberio, Micaela Colella, Angelo Figliola
Environmental & MEP engineering: Angelo Figliola
Client: Abu Dhabi's Department of Transports
Status: Project
Typology: Urban Space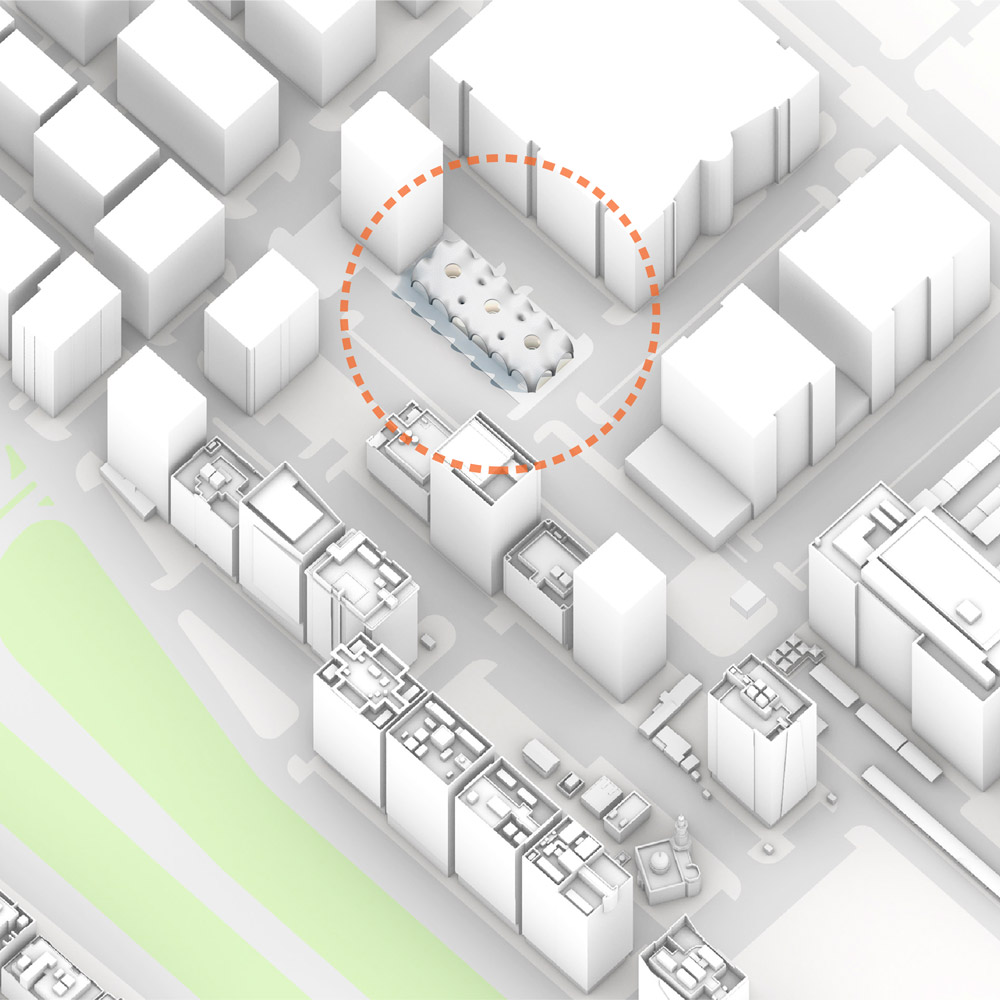 Save Project